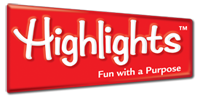 Introducing Highlights Magazine: Fun with a Purpose®

Dear Parents,

Highlights Magazine has become the world most popular monthly magazine for children. In June 2006, Highlights have reached one-billionth copy just in time for the company's 60th anniversary.

Every magazine comes with the following contents:
• Hidden Pictures® and challenging puzzles
• Science
• Animals
• Thinking Skills
• History & Geography
• Puzzles, Jokes, Riddled and Poetry
• Goofus & Gallant®
• Real-life articles
• Fiction & Illustrations
• Reading for All Ages

Audience: Highlights is suitable for children ages 6 to 12.

Frequency: Monthly (one issue per month)

Subscription Price:
Highlights Magazine Rp.580.000 (12 Issues) or Rp.310.000 (6 Issues)
High Five Magazine Rp.480.000 (12 Issues) or Rp.260.000 (6 Issues)

Highlights Magazine can bring a positive impact for your children's literature and creativity. To subscribe, please fill in the form below.